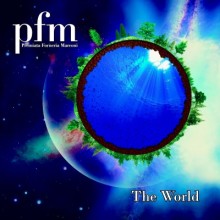 Data Pubblicazione:
March 10, 2015
condividi
PFM:
FRANZ DI CIOCCIO: voce, batteria, percussioni
PATRICK DJIVAS: basso, flauto dolce
FRANCO MUSSIDA: voce, chitarra elettrica, acustica, 12 corde
FEATURING:
ALESSANDRO SCAGLIONE: tastiere, cori
ROBERTO GUALDI: batteria, percussioni *
EDOARDO DE ANGELIS: violino, 2ª tastiera
MOMENT CHIOR:
SERENA TANAKA: (1st Soprano)
YUKO KURITA: (2nd Soprano)
SAKURA KURITA: (1st Alto)
AYAKA FUJITA: (2nd Alto)
JUNYA HOSAKA: (1st Tenor)
HIBIKI KINA: (2nd Tenor)
KOSUKE SHIMADA: (1st Bass)
YOSUKE KAWANO: (2nd Bass)
Registrato a Tokyo - Dome City Hall il 30 Maggio 2014
THE WORLD

CD / LP+CD
The Mountain
Just Look Away *
The World Became the World
Four Holes in the Ground
Is My Face On Straight
Have Your Cake and Beat It (Via Lumiere)
Versione live dell'originale
The World Became the World
The World
è l'ultimo tassello della collana
Il Suono del Tempo
, inedita raccolta live dei primi cinque dischi storici di PFM. La nuova versione consacra l'eccezionale potenza espressiva della band durante l'ultimo tour in Giappone. Questa versione con i testi originali di Peter Sinfield restituisce fedelmente la grande visione musicale del progetto che confermò la fama internazionale della band. Un disco che racchiude preziosi elementi comunicativi attraverso brani caratterizzati dal multi linguaggio di PFM. Dal coro e dall'energia di
The Mountains
alla ballata malinconica
Just Look Away
attraverso l'etnicità progressive di
Four Holes in the Ground
, lo sperimentalismo di
Via Lumiere
e l'ironia di
Is My Face On Straight
. La versione inglese di
Impressioni di Settembre
completa la track-list di uno dei capolavori di PFM.
The World
è disponibile su CD e LP con CD su etichetta Immaginifica by Aereostella con distribuzione Self.