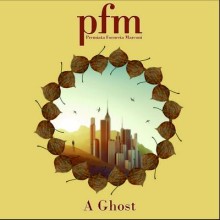 Data Pubblicazione:
February 17, 2015
condividi
PFM:
FRANZ DI CIOCCIO: voce, batteria, percussioni
PATRICK DJIVAS: basso, flauto dolce
FRANCO MUSSIDA: voce, chitarra elettrica, acustica, dodici corde
FEATURING:
ALESSANDRO SCAGLIONE: tastiere, cori
ROBERTO GUALDI: batteria, percussioni *
EDOARDO DE ANGELIS: violino, 2ª tastiera
Registrato a Tokyo - Dome City Hall il 30 Maggio 2014
A GHOST

CD / LP+CD
Rain Birth
River Of Life
Celebration
Photos Of Ghosts
Old Rain
Il Banchetto
Mr 9 Till 5 (Generale)
Promenade The Puzzle *
Versione live dell'originale
PHOTOS OF GHOSTS
A Ghost
è il quarto appuntamento della collana
Il Suono del Tempo
, l'eccezionale inedita raccolta live dei primi cinque dischi storici di PFM. Il CD ripropone atmosfere che caratterizzarono le tematiche musicali dell'album del debutto internazionale di PFM. I testi superbi di Pete Sinfield, poeta dei King Crimson, e gli arrangiamenti suggestivi illuminano l'esempio più vivo del progressive italiano, capace di affacciarsi nelle classifiche di "Billboard".
A Ghost
ripropone la scaletta originale tra cui la versione UK di
Celebration
e lo strumentale
Old Rain
, nato all'epoca direttamente in studio e mai eseguito dal vivo prima d'ora.
A Ghost
è disponibile su CD e LP con CD per Immaginifica by Aereostella con distribuzione fisica Self e digitale Pirames International.